I used to be more active and read more, I even used to paint my toes and take time to stop and actually smell flowers… there are some seriously fun things that used to be a part of my daily life that just aren't anymore and yes this is hard for me to realize most days.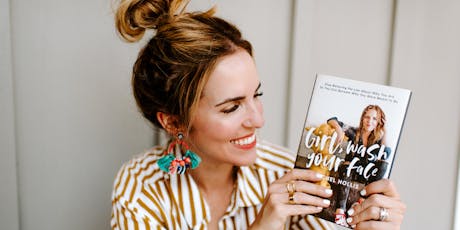 I take my time when I shower now just because those are the moments I get where I am alone, my husband is in the living room with the kids and I can't hear any of the commotion going on out there… so where I once jammed quickly to get ready I now go slower than a snail and enjoy it because I need little bits of "peace" here and there.
I say it all the time, my mind thinks to often and yes life is a roller coaster of adventures within my household but I still take pride and joy in my family and my little sunshine. I think there are more moments though that I need to dedicate to me, sometimes that is the hardest though for any mom.
Being a human is hard and then add motherhood… it's like trekking through the Grand Canyon trying to stay ahead of the flash flood. I recently read a book and by read I mean I bought the audio version. My hands no longer belong to me. True fact, they are property of McKinley and or the kitchen lol… and that my friends is the life we all choose once we have kids so I know you understand what I mean when I say my kids own me!
So back to the book… Rachel, Rachel, Rachel Hollis is a saint. She cussed at my soul in a way that I needed. I don't mean in a bad way. She told me things I needed to hear and wanted to hear for years but never had anyone with the balls to tell me, until I hit play on Audible and her voice told me things that opened my heart and my mind. I've done a few book reviews on my blog before and this is along the same lines but MORE. Her book Girl, Wash your Face   Is a best seller and I strongly advise you all to read it or listen to it. She also does the voice over so you have her energetic self reading to you… brilliant and vibrant!
I have read so many books and I own a great collection. Even old old books, rare ones from the 1800's including first editions. I love literature even though I honestly suck at grammar…. I still love the history and the story behind old books and rare old books. But back to this life changing must read adventure. If you are stuck in any kind of rut where you doubt yourself or where you think you know what you want in life but just haven't figured it out BUY HER BOOK AND READ IT. You will be changed in a way that is going to benefit you and those around you.
She touches on all sorts of things.. I have also taken her advice on marriage, parenting and being your best self. Life is hard girl but you can do all things with the power of you. People forget that, I know I did and sometimes it takes another person to encourage you and remind you that you can… no joke you can, so do it. Below are some of my takeaways from her book and I hope you do yourself a favor and get this… the audio version is hands down real and I love it!
Focus on what you have done
Celebrate the small moments
Nothing is more important than today
her ideas on the Chaos theory brought me to tears… she is so correct on this life fact… you have to embrace the chaos in order to thrive in this life.
Stress does effect people in ways that aren't healthy for yourself and your family, so true
Embrace the madness
There is beauty in the chaos and freedom in not fighting against it.
For me as a special needs mom the Choas Theory hit home in a way I wasn't expecting from her book. The whole section on talking about her marriage was an eye opener and my heart and soul were all of a sudden alive and breathing again after I was finished with her words. People are calling her the Tony Robbins of girls… maybe they are right.
Hope you like it as much as I did, Take Care!
-K-