Everyday is a new adventure and each year as easier as I would like for it to get it doesn't. Our life gets harder. I could sugar coat it for you and tell you that it is all glitter and rainbows in a field of Gerber daisies, but nope…
There are days where yes we stay home when the sun is shining. No we don't keep ourselves hidden inside, we take walks and go outside in the yard. But there are days where home is easier. There are days when we have more to pack in a car than other families due to all the items our little one needs. 
Over the years the amount of items has gotten a little lighter yes but our car got smaller so it all feels the same. I want for her to have that life where she can have some form of Independence but how? I want for her to be brave and strong. I want for her to be able to smile at the sun and dance in the rain. I want her to be able to do things without others helping her. Every Mom wants their child to have success in any way they can… 
Along the way I always come across things, items, books or tools that just help us and I want to share those with you… 
For those who wander without knowing the dangers…
Keeping her safe is priority #1 all the time. We like to be active and go places and we own a 2016 Camry hybrid therefore we need to keep it simple. When it comes to having a child who is disabled you are often accustomed to processing claims for items through insurance, we do this too when we can. The issue we have found is a lot of items that a "typical" child would have purchased for them by a parent are not covered. You would have to get a special disability stroller and unless you have a suburban or a mini van you will not be able to fit that into your vehicle. Also they are bulky at times and yes there are some you can get that work wonderfully but for us this worked even better.. We were able to also get help through a non profit called Wheel To Walk Foundation. First off they are so amazing and nice! They are located in Portland, OR and will help families like ours or families who would like help in purchasing all sorts of mobility items. Look them up, they rock!Wheel To Walk The Item that we chose when it came to a stroller was a Joovy Zoom 3-D Ultralight jogging stroller. This stroller I researched high and low, I compared it to the BoB Stroller and a lot of others. The fact that it was easy to fold up and down and store and fit in our car was perfect for us. Also it was able to accommodate a child  around the size of ours and give her room to grow. 
Material: 6061 Aircraft Aluminum
Open Size: 54 x 25 x 46 in (L W H)
Folded Size: 34 x 25 x 19 in (L W H)
Stroller Weight: 26.25 lbs
Minimum Child Age: 3 months or Birth+ with Car Seat Adapter
Maximum Child Weight: 75 lbs
Seat Back Height: 18 in
Headroom: 22 in
Height to handlebar: 41 in
JOOVY ZOOM 3-D ULTRALIGHT JOGGING STROLLER
2.This next item falls pretty much right in line with the first as far as keep her safe goes. We once again needed something that we could use that would FIT into our lives and would keep her safe and secure. We have a current high end hiking backpack. We own the Osprey Poco Plus Child Carrier and love it! The problem with this is that my daughter didn't get my short stature… she got her daddy's legs, she really is a daddy's girl so if the shoe fits. This hiking pack has worked so well for us over the past few years that we have had it but now that she is finally growing (I say finally due to her being smaller and having failure to thrive issues in life) we needed a different option so we went for 2 options…
The first is the Lille Baby Complete Toddler Carrier. This is a step up from the Ergo that we have owned. This is larger and more comfortable for the parent carrying the child. This is also not covered by insurance or DD services. I did not find a non profit to cover this for us so we ate the cost which is a little steep for something that is made from fabric. I kid you not though this is high quality. We are so happy with it. I did purchase the belly belt add on and the stirrups for my little ones feet. There are a few different options with the Carryon, we chose the mesh breathable one due to having an offer code on this specific choice… we love it!.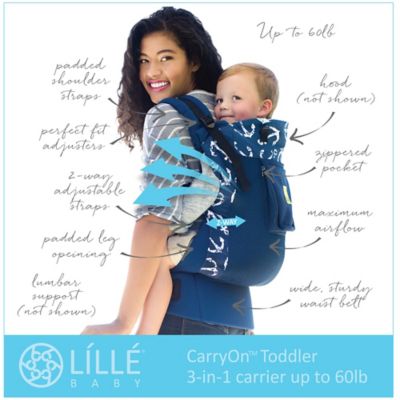 The next thing we are still in the process of getting is the Freeloader Child Carrier. Can I just say WOW! A dad team made this and yes it was even featured on shark tank once. This is so neat and they gear it towards kids with special needs. To top it off the pack itself weighs in at a whopping 5lbs. This is a miracle compared to the Osprey pack or even a Kelty. It is compact and easy to store, space saving is key when you have more to pack. And here is the best part, it can carry a child up to 90lbs. #winning right there. I can not wait to get this and take our sunshine on many more outdoor adventures. She loves being in nature, but she can not travel on her own two feet. She is not able to get around on ground that is not flat easily and yes she wanders without any care of cliffs or drop offs or danger. So into the woods we must go and safely. Best form of therapy for her is getting fresh air and giving her amazing things to look at outside… recently she is into touching the moss on trees. This carrier was not covered by insurance due to ours BCBS not being able to find a CPT/HCPC code for it. We tried to generic code for a DME purchase but this did not work, so with this being geared towards kids with disabilities and not something a "typical" family would purchase for their child we can now put this through DD services with the BCBS denial and a letter from her PCP stating the need of this item and they will purchase it. This is spendy so having this come without us being out on the cost is amazing, it will get used tremendously as well. Also Freeloader offers a %15 discount is you are making the purchase for a child with special needs, yes this girl loves deals!!!!
3. The next item that we have recently started the process of getting for McKinley that I feel is a great thing to have in the world of ASD life is:
Multi-functional Headphones, GranVela A809 Foldable Lightweight Headphones with Built-in FM Radio, Micro SD Card Player and Detachable Cable – Black
The reason for this choice was due to her loving music, also they can be used with a micro sd card inserted and am/fm radio. Or they can be used without music. For us we already have a pair that are used when we take her to concerts but she doesn't like them unless we are around loud loud concert status music… so this was a great option for us and they are only $16.99 on Amazon. They are rechargeable and smaller than most as well. For us this is great since our little one will take things, anything and mic drop it. She can break things without understanding that they can break, that costs us more over time replacing things. So for this price I give this item 5 stars as a parent with a child who can benefit from having this item as a sensory item. 
4. Food items… Now this is hard for us due to our little one being an odd ball eater… BUT, most kids are so hey all you parents here are some great things that have recently worked well for us… my little one is a picky eater with textures, she really likes yogurt so I have to hide a lot of her food in it, I choose to get organic greek plain or honey flavor and I add things to it but she doesn't like veggies and she only eats 3 fruits regularly. Bananas and Raspberries and Strawberries, my kind of girl… she still needs a good variety and she doesn't like meat by itself. So I have gone back to my ways of meal prepping and getting crafty like I did when she was first starting out on food and blended all her baby food.
My first go to that I like to have in my purse or at home are the Kind Pressed bars and The Cliff Kids Bar:
Yes they have sugar in them, hard to get away from that but they are better than most and my kid eats them. Besides having goldfish crackers and other things to snack on I always have those items on hand. 
The next food item that I have recently dove into and she seems to really like is a basic Sweet Potato from the grocery store, No not YAMS.. a sweet potato the color is different, do not forgot this. I will heat it, mash it and add cinnamon, water to give some moisture back into it and coconut oil. She loves this! This is a go to side item on her plates. 
When it comes to her daily food that she eats I always have a yogurt mixture made up for her or a PB&Honey sandwich cut into small bites that i have to chase her around and make her eat. But there are also things that I add into her yogurt:
During Breakfast I make her "pancakes"… I take Zucchini  and shred it, I also zest an Orange and ad 3 egg whites along with Organic Oat Bran that I get from Trader Joes. I add cinnamon to this and normal Pancake mix from the grocery store. I add Almond Milk to this and cook them up, sometimes she will eat them plain without any syrup and torn into pieces… I sneak as much good into them as I can.
During lunch she gets Instant Oats Plain, Greek Honey Yogurt, Smashed Raspberries, Cottage Cheese and sometimes this:
During dinner time she gets cooked Chicken, cooked Potatoes, cooked carrots, cooked broccoli and sometimes raspberries again along with the Greek Honey Yogurt. All the items in this mix must be cooled after cooked.. I will meal prep too and make them all ahead and freeze them in little packets so I can take one out each night and defrost and add to the yogurt. She doesn't like warm food usually that kid she is so silly.  I try my best to mix up the veggies but she wont eat it if there isn't a hint of sweet to it. 
She does like spaghetti and pretty much all noodles, doesn't like ice cream but loves whip cream… 
5. An everyday thing that she also now takes are vitamins and probiotics. She has to take Miralax every day otherwise she will not be able to go to the potty. So I wanted her insides to be happy too and I finally found some great vitamins that she enjoys taking. They have become part of her regular morning routine and you can buy them on Amazon or Costco.. 
She also has to take Pediasure in each of her milk bottles still, this is not covered by insurance and honestly over time that cost adds up. She goes through Diapers faster due to her expelling liquid quick with all of her intake and medical issues… Medicaid does pay for diapers BUT the ones they offer caused her to break out in a rash. No child wants to have diaper rash at 4yrs old.. we use the good ol Kirkland Brand all the way lol
6. WEIGHTED BLANKET! I think even if you aren't on the spectrum they are so nice to have! We have one for McKinley and yes it was covered by DD services not by BCBS insurance. We would like to eventually get a weighted lap pad to for travel and to have in the car, they are amazing. There are times where she has a hard time slowing down to get to sleep… she actually is a good sleeper though but I don't want to be up until 10 every night so this has saved us a lot. so thankful for this!!!!
7. New resources…. drum roll here is where I tell you about 2 really neat things that I just found out about myself. 
First is Kulture City Please click the link and GO THERE. Check this out please! This is an organization that is trying to really change things for the autism community for those who can't communicate and I love this!!!!! They offer an app for your phone and a neat way to have toys delivered to those on the spectrum… they offer locations on sensory friendly places near you and so much more! They also worked with the NBA to get them to have sensory rooms and better inclusion at different locations for people on the spectrum. BOOM! Watch this!!!:KULTURE CITY VIDEO
Besides Kulture City offering ways to access and I PAD for those who are on the spectrum at little to no cost so does this organization, DANNYS WISH IPAD APPLICATION 
Is another wonderful site with access to resources including yes an I pad, please check this out if you feel this could benefit your family. We have not accessed the I pad as of yet due to McKinley having the amazon fire tablet for kids. We got this since there is the 2 year warranty and for now she is still working on not doing a "mic drop" with electronics. She has shown great progress with her 25 hours a week is ABA in home therapy so wish us luck. I would love for her to have an I pad someday soon, maybe in the next year the apps for apple are better with ASD inclusive apps. 
I do hope that some of this helps you in some way, this is our life and the items I have listed or things that help us are specific to us yes but who knows maybe I gave you a good pointer today so if so Mission Accomplished. 
-K-